Who Knew?
The question shouldn't be about Trade. It should be about "Fair Trade"
Under-pricing deprives Africa of much-needed money, the report says Tax avoidance, secret mining deals andfinancialtransfers are depriving Africa of the benefits of its resources boom, ex-UN chief Kofi Annan has said.
Firms that shift profits to lower tax jurisdictions cost Africa $38bn (£25bn) a year, says a report produced by a panel he heads. "Africa loses twice as much money through these loopholes as it gets from donors," Mr Annan told the BBC.
It was like taking food off the tables of the poor, he said.
The constitutional court in Kampala has declared the passing of the anti homosexuality bill into an act as null and void.
by Emmanuel
A woman stripped naked in Nelson Mandela Square in Johannesburg and caressed a huge statue of the liberation hero as astonished bystanders looked on, local media reported Wednesday.
The young African woman first saluted the statue of the former president, who is revered for his role in defeating the racist apartheid system, before disrobing, witnesses said. A waitress at a nearby restaurant told The Star newspaper that the woman's actions, at around 4.00pm on a busy Monday, had caused a frenzy. Male waiters got their orders wrong and a male customer was hit on the head by his wife for getting up to take a closer look, she said.
The fractals at the heart of African designs

:

The binary code used in all electronic components including computers is probably from Africa!
It is amazing to see how fractals where used in some African villages. Great talk!

.
What makes the world go around:
A Supreme Court Fight For The Rights Of a frequent-flier card for "Cello Harrell."
Delta kicked Harrell out because he always travels with his cello and pays for a separate seat for the large and very valuable instrument. Indeed, Harrell travels so much, and internationally, that he got a frequent-flier card for "Cello Harrell."
Discuss: (a) vs. (b)
(a):
"Rules for dating my daughter
1. I don't make the rules
2. You don't make the rules
3. She makes the rules
4. Her body, her rules
Feminist Father"
(b):
.
Alemayehu G. Mariam | June 13th, 2011
In 1996, he told African intellectuals exactly what he thought of them: "Hordes of politicians, lecturers, professionals, lawyers, and doctors sell themselves off into prostitution and voluntary bondage to serve the dictates of military vagabonds with half their intelligence. And time and time again, after being raped, abused, and defiled, they are tossed out like rubbish — or worse. Yet more intellectual prostitutes stampede to take their places…"
.
"I've learned that people will forget what you said, people will forget what you did, but people will never forget how you made them feel."― Maya Angelou
Maya Angelou's pro-life journey
I am reproducing it below, and then I will offer what the late Paul Harvey might call the rest of the story.
When I was 16, a boy in high school evinced interest in me, so I had sex with him — just once. And after I came out of that room, I thought, Is that all there is to it? My goodness, I'll never do that again! Then, when I found out I was pregnant, I went to the boy and asked him for help, but he said it wasn't his baby and he didn't want any part of it. I was scared to pieces. Back then, if you had money, there were some girls who got abortions, but I couldn't deal with that idea. Oh, no. No. I knew there was somebody inside me. So I decided to keep the baby.
My older brother, Bailey, my confidant, told me not to tell my mother or she'd take me out of school. So I hid it the whole time with big blouses! Finally, three weeks before I was due, I left a note on my stepfather's pillow telling him I was pregnant. He told my mother, and when she came home, she calmly asked me to run her bath.
I'll never forget what she said: "Now tell me this — do you love the boy?" I said no. "Does he love you?" I said no. "Then there's no point in ruining three lives. We are going to have our baby!"
What a knockout she was as a mother of teens. Very loving. Very accepting. Not one minute of recrimination. And I never felt any shame.
I'm telling you that the best decision I ever made was keeping that baby! Yes, absolutely. Guy was a delight from the start — so good, so bright, and I can't imagine my life without him.
At 17 I got a job as a cook and later as a nightclub waitress. I found a room with cooking privileges, because I was a woman with a baby and needed my own place. My mother, who had a 14-room house, looked at me as if I was crazy! She said, "Remember this: You can always come home." She kept that door open. And every time life kicked me in the belly, I would go home for a few weeks.
I struggled, sure. We lived hand-to-mouth, but it was really heart-to-hand. Guy had love and laughter and a lot of good reading and poetry as a child. Having my son brought out the best in me and enlarged my life. Whatever he missed, he himself is a great father today. He was once asked what it was like growing up in Maya Angelou's shadow, and he said, "I always thought I was in her light."
Years later, when I was married, I wanted to have more children, but I couldn't conceive. Isn't it wonderful that I had a child at 16? Praise God!"
This essay takes on even great poignancy if we know that over the course of her long life Ms. Angelou endured enormous hardships. She accumulated countless honors—she was nominated for a Tony Award in 1973, won three Grammys for her albums, received an honorary National Book Award for her contributions to the literary community in 2013, and a Presidential Medal of Freedom –but there was a great deal of pain and trials and tribulations as well.
The story is a long, long one but important. Angelou's only grandson, Colin, was kidnapped in 1981 by her ex-daughter in law after she lost custody. It would take four years to find Colin and bring him back home. In the meanwhile, Guy's physical condition deteriorated from bad to worse.
In 1962 Guy (then 17) had broken his neck in an automobile accident. The grandson had been missing for a year, according to Beverly Beyette, writing in 1986 for the Los Angeles Times, "when Guy Johnson's 20-year-old neck injury began to plague him; calcium deposits had attached to his spine and Johnson, tall and husky and athletic, was starting to have serious coordination problems. Soon, he was at Children's Hospital in San Francisco, paralyzed from the neck down."
Guy, understandably, hit an emotional low, Beyette wrote.
Angelou remembers him telling her, "Mother, I refuse to live a talking head. And though you're my Momma and though I'm your only child, and I know you love me, I have to ask you something no one should ever ask a mother. If there's no chance of recovery, I have to ask you to pull the plug and let me go."
Well, Angelou said, smiling as she recalled the startled faces of the intensive-care nurses, "When I really understood what he was asking me, I mean, I started screaming–'Total recovery, that's what I'll accept, total! I see you walking, standing, riding. Total!' "
Things did not turn around quickly. "His spinal column was too fragile to even blow on and there was a blood clot sitting on it that had to be removed."
As Angelou told her story, her voice again rose to a shout: "I said, 'I'm not asking you, I'm telling you. I'm going to somebody much higher than you, much higher. You did the best you knew to do and I have no argument with you. But now I've gone somewhere else.' "
The surgeries were a success. One morning, Angelou said, the nurse awakened her and said, " 'Good news.' We went in and she pulled the sheets off Guy's feet and there was one toe (wiggling)." The joy of that moment, now relived, made Angelou once again slap her hands together and laugh.
Now, the search for Colin would intensify.
I don't think anything else needs to be added, or could be added. A remarkable woman whose loyalty to her son and grandson—her determination in the face of seemingly insurmountable odds is incredible—is a lesson to us all.
.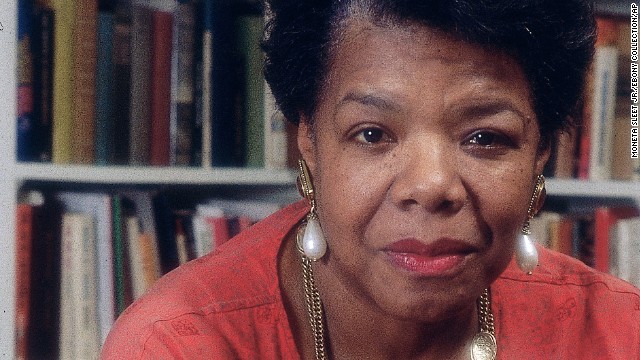 Maya Angelou: Poet, novelist and actress
One of Angelou's most praised books was "I Know Why the Caged Bird Sings."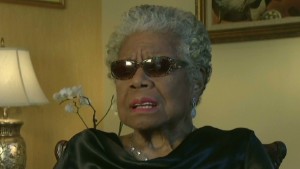 2013: Maya Angelou discusses MLK's dream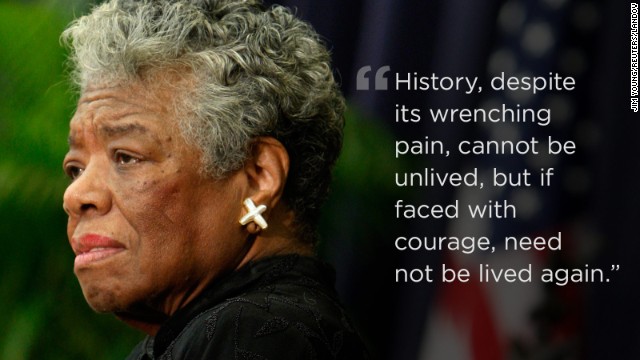 Maya Angelou: In her own words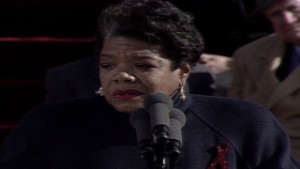 1993: Angelou at Clinton's inauguration
The memoir bore witness to the brutality of a Jim Crow South, portraying racism in stark language. Readers learned of the life of Marguerite Ann Johnson (Angelou's birth name) up to the age of 16: how she was abandoned by her parents and raped by her mother's boyfriend. She was homeless and became a teen mother.
Its publication was both daring and historic given the era of its debut in 1969.
"All of the writers of my generation must honor the ground broken by Dr. Maya Angelou," author Tayari Jones posted on her Facebook page Wednesday.
By Todd Leopold, Ashley Fantz, Moni Basu and Faith Karimi, CNN
updated 8:40 AM EDT, Thu May 29, 2014
.
-
Rest in Peace BABA Madiba- We were all Created in God's Image – by K. Kaunda
-
-
"Who knew?" is a page that deals with unusual stories which make you stop and think or wonder about what you have just read; and hopefully learn a thing or two, or simply as a reminder to count your blessings or just for a chuckle but sometimes makes you mad and wish or want to do something about it. Disclaimer: I didn't author any of the articles on this page. Click on colored text to go to links to get details. Go ahead – indulge:
A win win relationship:
-
SOUTH CHARLESTON, W.Va. (AP) — A West Virginia man who police said passed gas and fanned it toward a patrolman has been charged with battery on a police officer.
Dr. Vandan Shiva shoots a straight forward rebuttal at the myth that Bangal's famine took millions of Indians because of inadequate backward farming methods which GMO could have prevented. She quickly revamps that assertion which has implied connotation – that for India to feed her citizens, she needs Britain or the West; Instead, Dr. Shiva attributes the death of millions of Indians during the Bengal famine of 1943 to the British colonizer who continued to import 50% of India's rice to feed her people, leaving poor Indians starving to death.
Tim's latest book, The Queen of Katwe, is available now! It is the true story of Phiona Mutesi, a teenager from the poorest slums of Uganda, who — inspired by an unlikely mentor, a war refugee turned missionary — has become an international chess champion.
Let us all support this young lady by purchasing this book. For those already disappointed with the OPM's Saga, here is part of the e-mail I got from Tim Crothers – the author's assurance: "Phiona, her family and Robert Katende are all receiving a significant portion of the proceeds from the book contract and donations to Sports Outreach Institute, which sponsors Katende's project".
-
Just one cup of this dung coffee will cost you over $25.00 and two pounds over $1,000.
"We had to unveil an Africa that wasn't that well known to … a number of audiences." — Emeka Okafor
There are many stereotypes about Africa: that it's a place of conflict, of disease, war and famine. Or that it's a single place rather than a continent of 54 distinct countries. We'll engage with thinkers and doers who are constructing new realities for their respective countries — and for the African continent a whole.
In effect, our country has been behaving like an extraordinarily rich family that possesses an immense farm. In order to consume 4 percent more than we produce — that's the trade deficit — we have, day by day, been both selling pieces of the farm and increasing the mortgage on what we still own.
A lot to learn.
Hazel Jones always wondered why she suffered from terrible cramps and heavy periods during puberty. But it wasn't until she turned 18 that she was given her astonishing diagnosis – she had two vaginas.
Another banking scandal.  HSBC apparently laundering billions for Mexican drug cartels. How do we rein in crooked bankers?
-The Lessons Of MF Global
How do you misplace $1.2 billion and lose billions more? Jon Corzine and the lessons of the MF Global collapse.
A federal jury has found a former Pennsylvania judge guilty of participating in a so-called "kids for cash" scheme, in which he received money in exchange for sending juvenile offenders to for-profit youth jails over the years. Former Luzerne County Judge Mark Ciavarella, Jr., was convicted Friday of accepting bribes and kickbacks for putting juveniles into detention centers operated by PA Child Care and a sister company, Western Pennsylvania Child Care. Ciavarella and another judge, Michael Conahan, are said to have received $2.6 million for their efforts.
Evan McMorris-Santoro
August 19, 2012, 2:06 PM 895754
This post has been updated.

Rep. Todd Akin, the Republican nominee for Senate in Missouri who is running against Sen. Claire McCaskill, justified his opposition to abortion rights even in case of rape with a claim that victims of "legitimate rape" have unnamed biological defenses that prevent pregnancy.
A woman trying to feed the kids in her neighborhood during the summer may be fined for her good deed. Angela Prattis of Chester Township, outside Philadelphia, has spent the past few months handing out free lunches to the children in her community while they're home from school for the summer break.
Hedge funds are behind "land grabs" in Africa to boost their profits in the food and biofuel sectors, a US think-tank says.
"The same financial firms that drove us into a global recession by inflating the real estate bubble through risky financial manoeuvres are now doing the same with the world's food supply," the report said.
"This is creating insecurity in the global food system that could be a much bigger threat than terrorism," the report said.
These reports, as well as briefs on other aspects of land grabs, are available at http://media.oaklandinstitute.org.
###
The Oakland Institute is an independent policy think tank whose mission is to increase public participation and promote fair debate on critical social, economic, and environmental issues (www.oaklandinstitute.org).
Indian, Chinese and U.S. companies are among many inking land-investment deals in Africa, including Ethiopia, Tanzania, South Sudan, Mali, and Mozambique. According to a study by the U.S.- based Oakland Institute, foreign investors bought or leased a land area in sub-Saharan Africa about the size of France in 2009 alone.
As India, China, Saudia Arabia and South Korea all lease land in the horn, some say we are in the midst of a second 'scramble for Africa.'
European direct or indirect involvement in land grabbing.

A number of different factors have increased demand for land (agrofuels, food crisis,
financial crisis). European involvement in land grabbing is first due to the policies of
both the EU and individual member States, which are directly and indirectly stimulating
these factors, and hence this increased demand for land. Moreover, in some cases,
there is a direct State involvement in the corporations acquiring the land.
The tribesman who Facebook friended me
A very interesting Article by Jonnie Hughes about Papua New Guinean tribes
(Credit: Image courtesy of the author)
Six members of the tribe came to Britain.  With every whispered observation, they left us powerless to explain the madness of our own social norms, and when they boarded the plane back to PNG, we were the ones racked with envy – envious of their joyously interdependent community, their clear understanding of what mattered in life, their rock-solid roles, simple pleasures and ample leisure time, their lack of mortgages and debts, their indisputable "goodness."  Our world appeared an obscene and dysfunctional manifestation of human existence in comparison…..Continue Reading
Compare and contrast these two cases (a) above and (b) below
Louise Redvers: Portugal's fortunes may have fallen, but Angola's star is on the rise. Once ravaged by decades of war, it now expects 12 percent growth next year. Angolan companies, already own extensive holdings in the banking, energy and telecoms sectors. Some analysts see the changing relationship between the two countries as an intriguing role reversal.
Patricia de Melo Moreira/AFP/Getty Images
Portuguese minister of foreign affairs, Paulo Portas (right) greets his counterpart, the minister of foreign affairs of Angola, Georges
Hilversum — A one-month old baby, said to hold a diploma, was on the Nigerian government payroll, officials have discovered, exposing the levels to which corruption runs in Africa's most populous country.
by Thomas R. Spencer (Diary)
Isn't modern medicine wonderful? A hundred years ago, the average life expectancy in the United States was 47 years. In 2009, the federal government recently announced that it is 78 years. And, now, in an age when NASA has machines roving Mars, many states are extending the voting life of citizens for years after they are medically pronounced dead.
According to Walters, Madoff says he has terrible remorse and horrible nightmares over his epic fraud, but feels "safer here (in prison) than outside. I have people to talk to, no decisions to make. I know I will die in prison. I lived the last 20 years of my life in fear. Now, I have no fear because I'm no longer in control."
From CBS News
HARARE Zimbabwean men are a proud lot, but they are slowly taking a bruising with increasing reports of women raping men, in a bizarre trend that appears driven more by superstition, and which social commentators say reflects a more serious underlying problem total moral decay of the nation. 03.09.1010:42am 4 0 (http://www.thezimbabwean.co.uk/)
by MISA
LONDON (Reuters) – The biggest mystery in the universe perplexing one of the world's best known scientists is — women.
When New Scientist magazine asked "Brief History of Time" author Stephen Hawking what he thinks about most, the Cambridge University professor renowned for unraveling some of the most complex questions in modern physics answered: "Women. They are a complete mystery."
The People Executed, as Convicted Witches, By the Salem Witch Trials
Salem Witch Trial Death Toll (credit to www.squidoo.com)
For Kenya not wanting to be left too far behind:-

-Alleged witches (all around the world! could this be sexism at work?)
!

MIAMI — A woman who wanted to work at a nightclub started searching for someone who could perform plastic surgery at a cheap price to give her a curvier body. Police say what she found was a woman posing as a doctor who filled her buttocks with cement, mineral oil and flat-tire sealant